Momoyamagaen
Momoyama-gaen

桃山雅苑

An entertaining space of 600㎡ with open-plan living and four, individually-themed, bedrooms.

Momoyama Gaen's concept is oceans, mountains of Atami and traditional Japanese arts. The concrete building, built in 1976 as a company's vacation house, has been boldly renovated, using a wealth of natural materials, and is reborn as a luxuriously comfortable space. The open-plan living-kitchen-dining room has an airy, 4 m ceiling height with a painting of majestic Mt. Fuji decorating one wall, contrasting the calm ocean view over Atami that can be enjoyed from the full width window. This impressive space, of about 100㎡, seamlessly connects with the deck terrace and open kitchen, making it perfect for a party with your invited guests.
On the second and the third floors are four bedrooms with distinctive interior designs ready for you and your guests. The rooms have been individually created by four interior designers, taking inspiration from Atami's connections with the ocean, the mountains and the cultures of Nou theatre and tea ceremony. Adding to your pleasure you can enjoy the unique contemporary works of young artists collected by the owner who is a benevolent person.

The large, yet intimate, space is spread over three floors, allowing up to 8 guests to share relaxing time together.
Four uniquely-themed bedrooms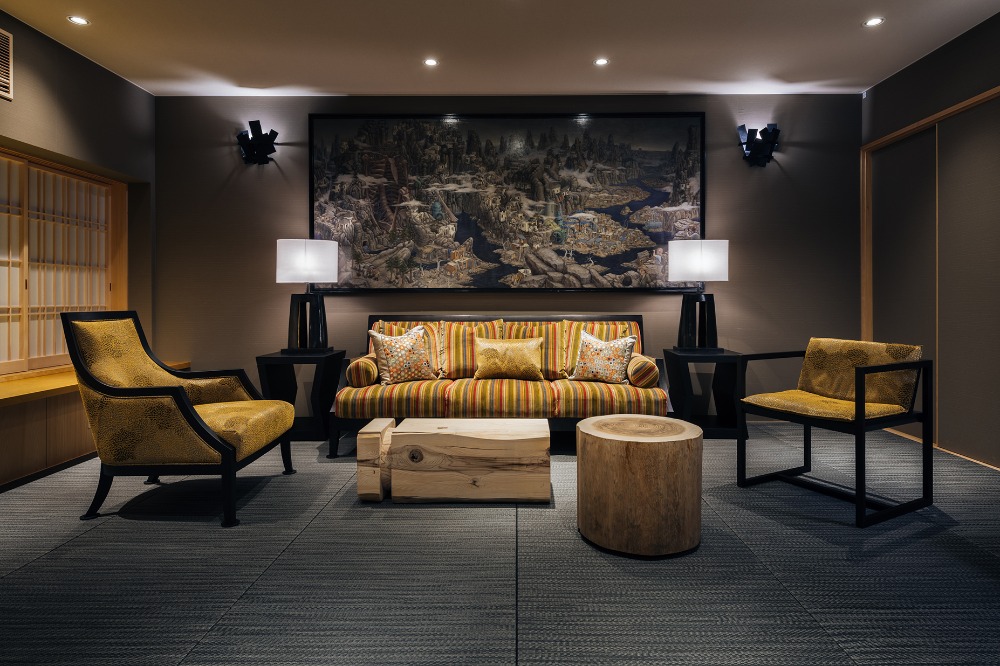 NOU
A mystical space created with a theme of the Japanese traditional art of Takigi-nou.
Every year in Atami, a Japanese traditional theatre performance of Takigi-nou is held on the beach. This bedroom is inspired by a mysterious night of full-moon. The dark-colored tatami floor, made of Japanese paper, represents the sandy beach at night and the colours of the furniture link to the colours of Nou costumes. Decorated with artefacts such as the wall lights made by a sculptor Genki Ueno, depicting a bonfire, and Hiroki Kakinuma's large-scale tempera painting, the interior embodies the glamour of Nou.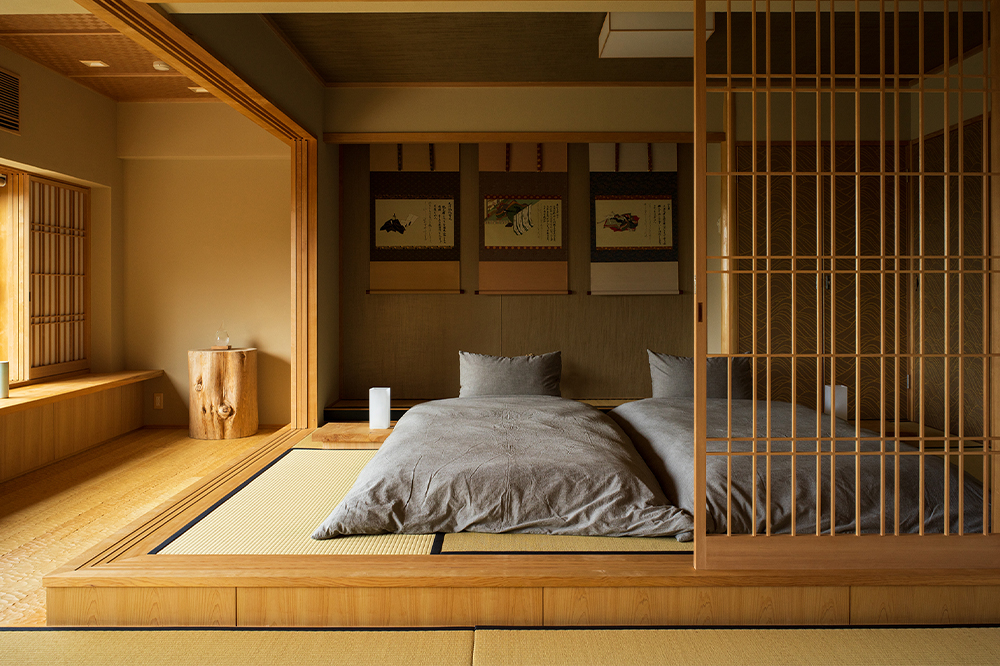 CHASHITSU tearoom
A Japanese-style bedroom inspired by the spirit of Japanese tea ceremony.
A Japanese-style room with a tearoom and a washing room the design of which was supervised by a Urasenke tea-ceremony professional/master.
The tearoom features Kyoto-size tatami and naguri (wood texture with a distinct wave pattern) processed flooring, with ajiro (wickerwork) ceiling representing the pathway and sliding screens adorned with Japanese classic Kyo Karakami papers and puller. Although it is a modern space, Japanese architecture's traditional characteristics have been preserved and visitors will feel at ease from the soothing aroma of igusa rush and cypress. In addition to the tea ceremony, you can also invite Nou performers and geisha to perform on the slightly raised tatami mats to enjoy a private, traditional cultural experience.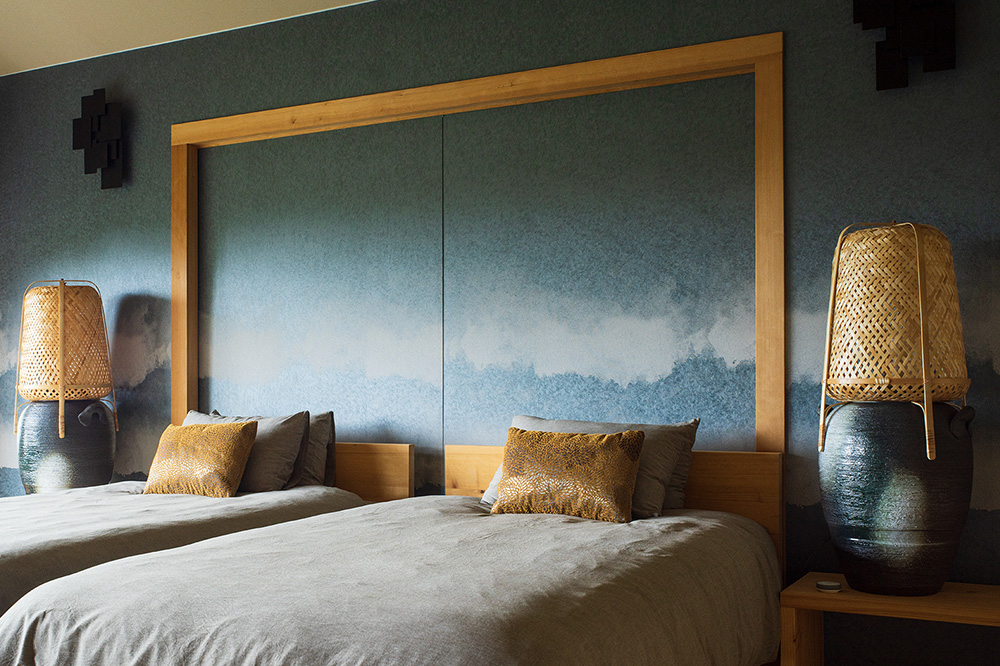 YAMA
A reflective interior to feel the magnificent nature of the mountains.
This room expresses Atami's scenery of mountain ridgelines and rich vegetation through interior design. In the beds' area is a mural redolent of the mountains. On the carpet, organic green patterns encourage visitors to imagine walking in a forest. The bedside lamps, combining Shigaraki-ware and orange baskets, provide a highlight that emphasizes this reflective space.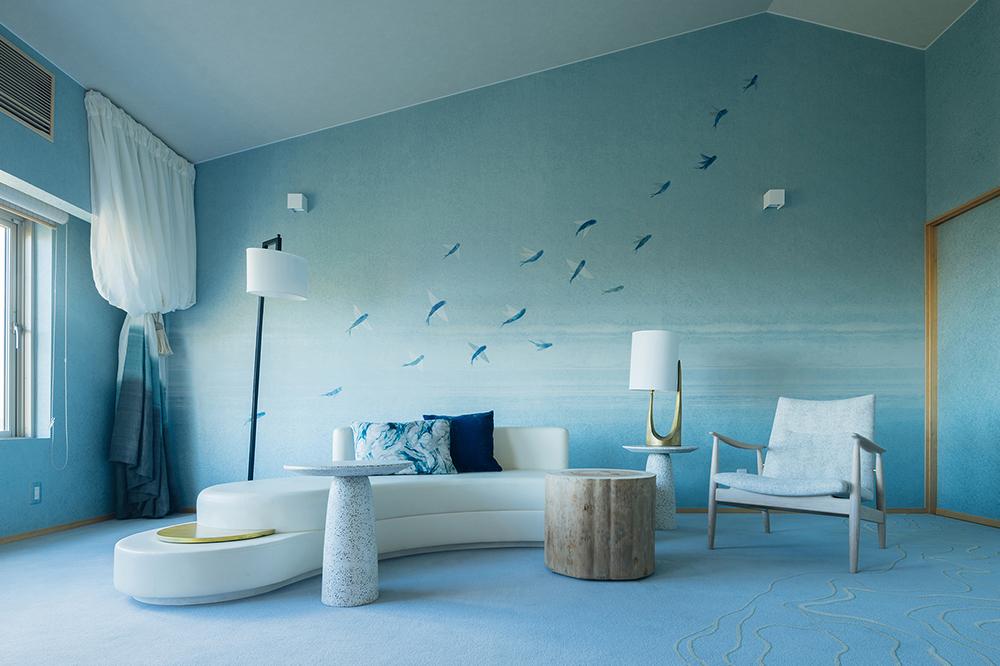 MIZU
The refreshing, pale-blue space overlooking the horizon from Atami.
A bedroom with a refreshing ocean view that is covered with pastel blues from the ceiling to the walls and carpet. The wall-art, reminiscent of the surface of water, is produced by an aizome indigo dyeing factory in Kesennuma, Miyagi. On the large, facing wall delicately drawn on Japanese "Washi" paper, is a shoal of flying fish living in the adjacent sea off Atami. The cool space nurtures the illusion of floating in the sea, promising a refreshed awakening.
Useful information
| | |
| --- | --- |
| Bedrooms | 4 bedrooms (maximum 8 guests) |
| Bed types | 6 semi-double beds/ 2 Futon |
| Rooms | 4 bedrooms/ LDK (Living Dining Kitchen)/ 2 bathrooms/ 2 toilets / a wood-deck terrace |
| Area | 600㎡ |
| Facilities | 65-inch liquid crystal TV/ Wi-Fi/ kettle/ refrigerator/ soda stream machine/ microwave oven/ toaster/ portable IH stove/ washing and drying machine/ air purifier with humidification/ dish washer/ hair dryer/ iron/ USB extension cords/ security box |
| Amenities | bath towel/ face towel/ tea shampoo/ tea conditioner/ tea body soap/ seven herbs makeup remover/ seven herbs all in one gel/ Hiba (hinoki leaf) original sanitizer/ tooth brush/ cotton swabs |
| Rentable equipment | projector/ Bluetooth speaker |
*cooking utensils and table wear are also available.
*Please contact us if you have other requirements not listed above.