Activity
Experiences
Experience the rich nature and culture of Atami with made-to-order excursions.
Exclusive and custom-made plans are available through Curation Hotel. For example, why not try guided trekking, a champagne cruise at sunset, a tour of MOA's (art museum) archives and a private Nou performance.
Private Nou theatre at Curation Hotel
Experience "Nou" a Japanese tradition theatrical art, in your own private hotel.
Through a performance and a small experiential lecture, you can feel a closer connection to the Japanese sense of colour and perception relating to Nou.
Model Plan
15:00
Check in.
↓
17:00
A private Nou performance at Curation Hotel.
A small lecture about Nou and its musical accompaniment.
(photo taking and a lecture of feet sliding as options.)
↓
18:30
Dinner (personal chef, catering etc.)
A sea fishing cruise to Hatsushima island with a chartered fishing boat
Go on a sea fishing with a local fisherman's boat to Hatsushima, the Atami's beautiful remote island. Enjoy fully a local seafood, nature and also the sunset from Sagami Bay on the way back.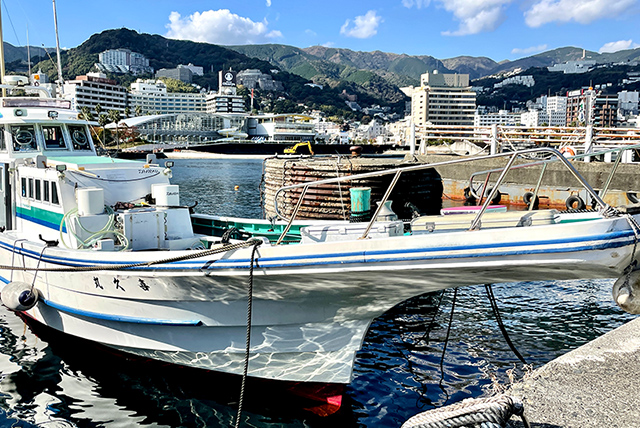 Model Plan
8:00
Private cruising departing from Atami port.
↓
8:30
Sea fishing and cruising to Hatsushima island.
↓
12:00
A special lunch cooked with caught fish.
↓
13:30
Enjoy various marine activities. (sea fishing, exploring the island, diving etc.)
↓
16:00
Sunset cruising back to Atami port. (accompanied with champagne and appetizers.)
☆All the fish you catch can be taken home cleaned and filleted. Fishing equipment rentals are included in price. The fishing rod is with electric reel that is absolutely beginner-friendly.

※Other special, customized plans can be arranged for visitors who are staying consecutively.